Tickets still available for the 7th Annual Louie Vermeil Classic
***LATEST NEWS***
One WEEK till the Hall Of Fame Reception and the greatest dirt track event weekend ..
    Friday August 29th …   Have your tickets ??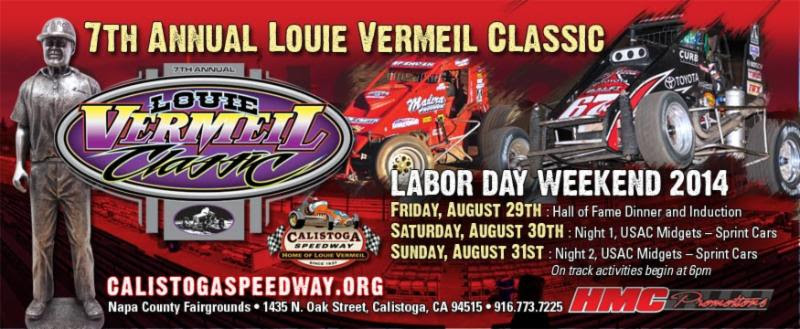 JOIN THE EVENT
FACEBOOK PAGE AND GET THE LATEST UP TO THE MINUTE                                                        NEWS

IN THIS WEEKS NEWS FIND THE FOLLOWING:
– Event Times 
– The Latest Press Release 
– Damion Gardners Land Speed Car 
– FREE TICKETS

OUR EVENT VIDEO PROMO HAS OVER 5000K VIEWS …Check it out 
FOR IMMEDIATE RELEASE
HMC-PROMOTIONS
Louie Vermeil Classic at the Famed ½ Mile Calistoga Speedway
Local Racing Star Rico Abreu Geared for Louie Vermeil
by: Troy Hennig                        
ROSEVILLE, CA – (August 18, 2014)…Rutherford, CA USAC Honda National Midget Dirt point leader Rico Abreu will lead a strong field of drivers all vying for the staggering $10,000 per night main event payday win at the 7th Annual Louie Vermeil Classic.  The famous ½ dirt oval track will host both tradition non-wing sprint car and midgets over the Labor Day weekend.  As with last year, the Honda USAC Western Midget main events will pay $10,000 to each night's winner.
The 7th Annual Louie Vermeil Classis will take place August 30th and August 31st at the Napa Valley Fairgrounds in Calistoga.  Front gate will open up at 4 pm with racing scheduled to start at 5:30 PM each night.  Tickets for the Louie Vermeil Classic can be purchased by calling
916-773-7223
.  The traditional racing format will feature both non-wing sprint cars and midgets with entrants from all over the United States.
With his close proximity to the Napa County Fairgrounds there is no doubt that Rico Abreu considers Calistoga Speedway his home track.  His family has helped rejuvenate the facility that has held dirt track races dating back to 1937.  Early this year a photo was shared through social media showing Rico on a grader working the track surface before a race at Calistoga.
While there is no doubt what the Abreu family has done for Calistoga Speedway over the past few years, one could make an argument that it is what Rico has done inside the race car that is more impressive.  After competing in 70 races up to this point, Abreu has won 15 feature events.  It is not only the volume of wins that is impressive but the different organizations and cars he has driven in those wins.  In March he beat the World of Outlaws at Tulare.  He has wins against the ASCS National Tour 360 winged sprint cars, King of the West 410 winged sprint cars, All Star Circuit of Champions 410 winged sprint cars an USAC Honda National Midget Dirt and POWRi Midget wins.  Recently on August 2nd, Abreu won the historic Belleville Midget Nationals in Kansas.  Abreu will run his 74th and 75th race of the year at the Louie Vermeil Classic.  According to his updated racing schedule, he is on pace to finish the year with 109 races, surpassing last year's astounding 102 events.  Last year, Abreu won the Saturday night portion of the Louie Vermeil midget main event.  This year he will pilot the Keith Kunz/Curb-Agajanian Motorsports #97.
Reigning USAC National Midget champion, Christopher Bell of Norman, OK, is a late addition to the Louie Vermeil.  The 19-year-old has taken the midget and sprint car world by storm these past two seasons.  Bell has collected 17 wins in numerous different types of cars and divisions in 2014.  Like Abreu, Bell is regarded as one of the best young driving talents in the Country.  Challenging Abreu and Bell for the win this weekend will be current Honda USAC Western Dirt point leader Trey Marcham of Oklahoma City, OK, driving the Josh Ford Motorsports #73 and defending Western States champion Ronnie Gardner of Norco, CA, driving his Six8 Motorsports midget.  Both Marcham and Gardner each have two wins this year, however, Gardner is on a hot streak having won the two most recent events.  A full field of midget cars are expected for both nights of racing.
The 7th Annual Louie Vermeil Classic will start off Friday night, August 29th, with the third annual induction of honorees into the Calistoga Speedway Hall of Fame.  The dinner and inductions will take place on the fairgrounds located inside the Tubbs building.  Tickets can be purchased through HMC-Promotions by calling
(916) 773-7225
Monday through Friday 9 AM to 5 PM or Saturday 9 AM to 4 PM. No Ticket sales at door.
_________________________________
DAMION GARDNERS LAND SPEED CAR IS SCHEDULED TO BE AT THIS YEARS EVENT !!!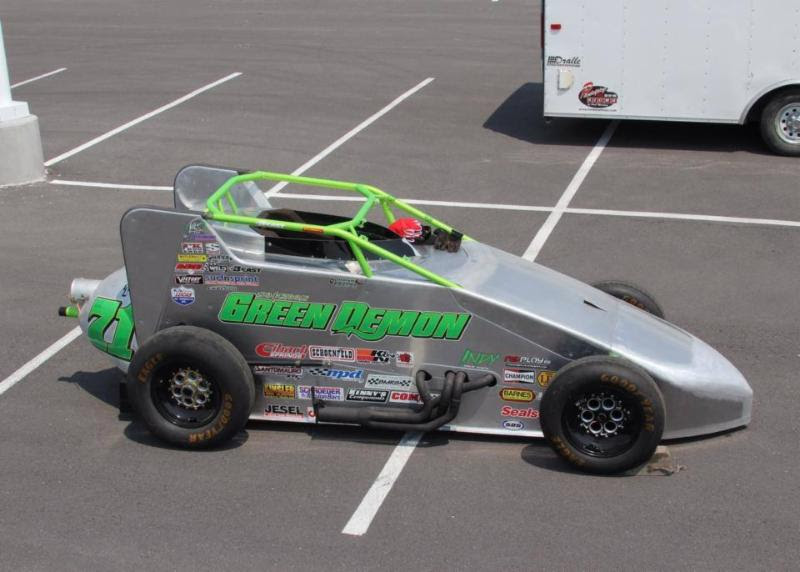 ** FREE TICKETS ** 
— GoKart Racer —
The fastest lap in a Sodi Kart at either the Burlingame or **New** Sacramento location on August 27th will receive 2 Free tickets to the Race. 
============================================
LAST DAY TO PURCHASE ADVANCED TICKETS: 
**** August 27th ***
=======================
The LOUIE is here !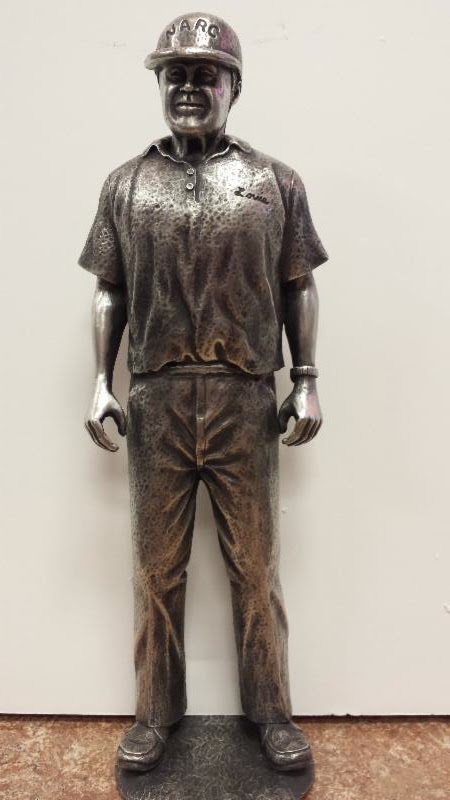 The 2014 Louie Vermeil Classic Event Trophy
Proud to announce
HOOSIER TIRE WEST
will be the presenting sponsor of the
"LOUIE"

Race Tickets:  Reserved: $35   General Admission: $30   
Gen. Admission kids (ages 6-12) $10
5 and under FREE    
 EVENT TIMES:  
Saturday August 30th

Pit Gate and Front Gate Ticket Sales / will call-opens at 12 noon

-Wine Tasting from 1 to 5 / $10.00 — 20 different Wineries

-Front Gate opens at 4

– Cars on Track at 5:30

NOTE:  No blankets can be left on Bleachers on Saturday night as we power wash the stands Sunday morning.

Sunday August 31st

Pit Gate and Front Gate Ticket / will call sales opens at 12 noon

-Beer Tasting 1 to 5 / $10.00

-Front Gate opens at 4

-Cars on Track at 5:30
  Continued Enhancements At Calistoga Speedway
After 75 years, it was time for a facelift.  Calistoga Speedway is one of the country's oldest continuously operating race tracks.   Since 1937, a lot of history has been made on the Napa County Fairgrounds half mile oval, the "House that Louie Built."   New fencing and paint are the first clues.  A new digital scoring pylon sits adjacent the front straight and two new score boards in turns 2 and 3. But fans will also see that the race track is wider and has more banking, which will give racers more lines through the corners.  We expect to see more wheel to wheel, by side racing as a result. That should make the racing more competitive and the fan
experience more enjoyable.
A Fairgrounds Full of Fun
Two nights of sprint car and midget racing are the main attractions of the Louie Vermeil Classic over Labor Day weekend.  But the Napa County Fairgrounds will be full of fun the entire weekend.   Several of Napa Valley's finest vinters will be on the grounds Saturday, giving race fans a chance to sample many of the valley's most notable wines.   Fans also will have an opportunity to meet some of their favorite drivers, including some who will be inducted into the Calistoga Speedway Hall of Fame on Friday night.
Sunday, wine gives way to beer, as some of the Napa Valley's finest brew masters offer up their specialties.    It all happens on the Napa County Fairgrounds, in the shade of the grove behind the main grandstand.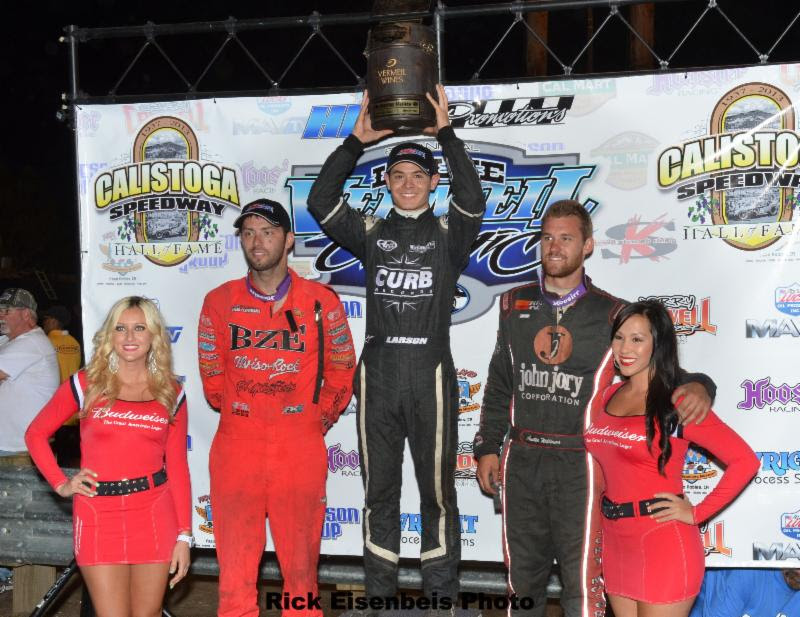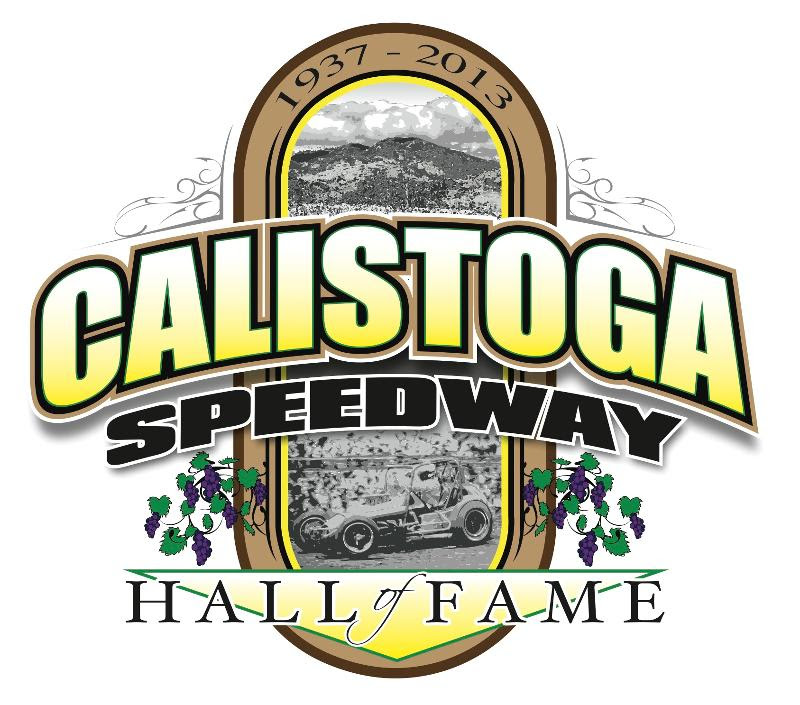 Tickets are available now.   All tickets for the August 3rd Annual Hall of Fame dinner must be reserved in advance.  No tickets will be sold at the door.   Full buffet dinner and wine is just $35.  The best dinner price in the Napa Valley.  Reserve a spot today and don't get left out.
 2014 T-Shirt Design / Available at event
Calistoga Speedway, Napa County Fairgrounds
 ****  RACE TICKETS  ****
  Reserved: $35  General Admission: $30   
Gen. Admission kids (ages 6-12): $10
5 and under FREE     
Call (916) 773-7223 

   LIKE the event Facebook page by clicking on the logo above:
** WIN PRIZES … SEE CURRENT AND VINTAGE PHOTOS … STAY UP TO DATE WITH THE LATEST EVENT INFO **